Crustacea: Malacostraca: Eucardia (Pt 2): Decapoda - Anomura, Brachyura Zoological Catalogue of Australia 19.3B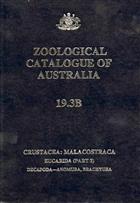 Description:
The sub-order Malacostraca will are covered in four volumes in this series. This volume covers over 1200 species of crabs (Brachyura) and related groups such as hermit crabs, porcelain crabs, squat lobsters, mole crabs, etc. (Anomura). All taxonomic groups down to families and subfamilies are fully diagnosed, and their status is reviewed and summarized, including genetic and larval species where available. Full taxonomic information is provided for each species, listing the original literature as well as museum data on the original type specimens. As much of the fauna is widespread beyond Australian shores,each species' listing indicates broad distributions both inside and outside Australian waters. Where possible, a short summary of known ecological data is given and there are references to key works that help identify the fauna at all taxonomic levels.
Other titles from the series : Zoological Catalogue of Australia
You may also like...