Darwin's Notebooks on Transmutation of Species. Part I: First Notebook (July 1837 to February 1838)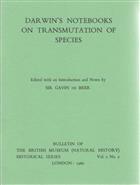 Description:
Bull. BM(NH) Hist. Vol.2(2)
Condition
Fine.
Other titles from the series : Bulletin of The Natural History Museum: Historical
Other titles from the collection : Library of Prof. Chris Humphries
You may also like...