Der See Fiolen und seine Vegetation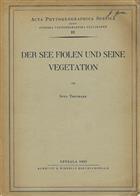 Description:
Text German. Acta Phytogeographica Suecica II. Lake Fiolen is in Sweden a near to Grönaberg, east of Åbodasjön.
Condition
Vg in wrapper. From the library of Prof. J. Green (1928-2016) with his name to front cover.
Other titles from the series : Acta Phytogeographica Suecica
Click to view all titles in this series...

Flensburg, T.
Price £25.00
Other titles from the collection : Prof Jim Green
You may also like...