Die Fledermäuse Europas: Alle Arten erkennen und sicher bestimmen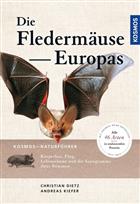 Description:
Text German. In this comprehensive and up-to-date standard work all 46 known European species of bats are presented, with their most important characteristics, occurrence and habits. The identification key allows identification. The book also provides information on the current state of research and reports in detail on the existence and protection of endangered species. The comprehensive standard work for everyone who wants to know more about bats and is committed to protecting them.
Other titles from the series : Kosmos Naturführer
You may also like...