Dionaea: The Venus' Flytrap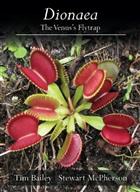 Description:
Dionaea, better known as the Venus's Flytrap, is the most famous carnivorous plant and according to Charles Darwin, 'one of the most wonderful plants in the world'. No species better represents the paradox of plants that eat animals than Dionaea, with its strange, highly modified leaves that resemble the jaws of a savage beast that snap shut upon victims in less than one second.
This long-awaited and visually beautiful book presents the first complete monograph of all aspects of the botanical history, ecology, evolutionary history, distribution and cultivation of this miraculous plant, and describes one hundred Dionaea cultivars from across the world, many of which have never been documented before. Native to only a small part of North and South Carolina, Dionaea is the most iconic plant of the United States and all of the Americas, yet it often remains misunderstood.
You may also like...