Distribution of Butterflies and Skippers in Europe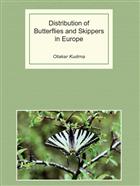 Publisher : SOM
Published In : Prague
Illustrations : distribution maps, col photos
Description:
24 Years Mapping European Butterflies (1995-2019).
The present publication appears 24 years after the project 'Mapping European Butterflies' (MEB) began in 1995 and follows earlier atlases published in 2002, 2011 and 2015. This edition contains new updated distribution maps and tables of all species and is based on over 1 million primary data records (compared to 250,000 in 2002 and 650,000 in 2011). Contains distribution maps and tables of the 445 European species. Also included in this edition are new conicidence maps evaluating the distribution patterns from various points of view including zoogeography and conservation biology, a short chapter on taxonomy, an annotated check-lists of genus and species group names, chapters on zoogeography, conservation, and project history. Conservation proposals to safe-guard the diversity of Papilionoidea and Hesperioidea in Europe with special reference to rare endemic species and hot spots of high diversity are proposed. MEB history is described. MEB is the only truly European undertaking supportred during the past 24 years by more than 300 contributors. MEB is indenspesible for the study and conservation of European butterflies.
You may also like...