Docks and Knotweeds of Britain and Ireland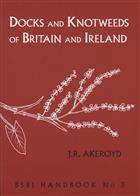 Description:
New edition, revised and rewritten, with additional treatments of many unrecorded hybrids and adventives, new distribution maps and keys, and 67 specially drawn illustrations by Anne Farrer. Allows the identification of knotgrasses, knotweeds, persicarias, docks, sorrels and their relatives in Britain and Ireland. Covering the whole of the British and Irish Polygonaceae, it incorporates much recent taxonomic research as well as updating the nomenclature in line with current practice. Includes descriptions of 83 species in 11 genera. All native and introduced but established species, as well as most casual species, are described and illustrated. Introduction includes sections on ecology, pollination, seed dispersal, economic uses and the recognition of Rumex hybrids. Keys to genera, subgenera, species and sub-species
Other titles from the series : BSBI Handbooks
You may also like...