Ecological Modelling Applied to Entomology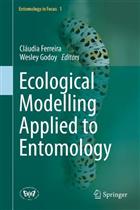 Description:
Combines real data and/or real phenomena with mathematical theory to show trends, ecological patterns and give some predictions
Provides examples of applications of mathematical modelling covering different areas of the entomology
Discusses the essential ecological basis for implementing mathematical modelling in entomology taking into account pest management and conservation biology theory
Provides a synopsis of the major topics currently studied in entomology combining population theory with experimentation. The chapters address different ecological aspects important for agricultural and medical entomology, emphasising pest management and conservation.
Other titles from the series : Entomology in Focus
Click to view all titles in this series...

Guarneri, A.; Lorenzo, M. (Eds)
Price £179.99
You may also like...