Ecology and Control of Introduced Plants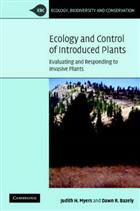 Description:
Focuses on introduced plant species: where they originate from, their impacts on native vegetation and ecosystems and the potential for their control. Contains practical explanations, case studies and an introduction to basic techniques for evaluating the impacts of invasive plants.
Condition
As new.
Other titles from the series : Ecology, Biodiversity and Conservation
You may also like...