Edward Whitaker Gray (1748-1806), Keeper of Natural Curiosities at the British Museum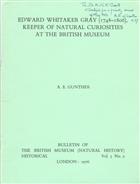 Description:
Bull. BM(NH) (Hist.) 5(2): 193-210.
Condition
Vg. Inscribed by author to Dr. K.G.V. Smith
Other titles from the series : Bulletin of The Natural History Museum: Historical
Other titles from the collection : Ken Smith
You may also like...