English Names regularly used for British Lepidoptera up to the end of the Eighteenth Century, with a biographical account of William Jones of Chelsea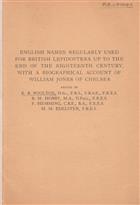 Description:
Reprint from Trans. Soc. Br. Ent. 1: 139-184.
Condition
Wrappers. Vg. With owner's name to wrapper (F.E. Zeuner (1905-1963), German palaeontologist and archaeologist who emigrated to England in the 1930s).
Other titles from the collection : The Library of W.G. Tremewan
You may also like...