Enigmatic Microorganisms and Life in Extreme Environments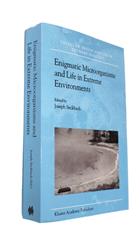 Description:
Reviews the three kingdoms of life (Archea, Eubacteria and Eukarya) from molecular evolutionary levels to ecological aspects in enigmatic habitats, including general reviews of puzzling pro-and eukaryotic organisms and their domains.
Condition
Vg. From the library of Prof. J. Green (1928-2016) with his name to fly-leaf.
Other titles from the collection : Prof Jim Green
You may also like...