Thermophiles: Biodiversity, Ecology and Evolution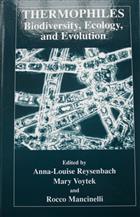 Description:
Covers the study of microorganisms from extreme environments, and provides a much-needed synthesis of the recent advances in the biology, biotechnology, and management of thermophilic organisms, with specific examples drawn largely from thermal springs in Yellowstone National Park.
Condition
Fine.
Other titles from the collection : Prof Jim Green
You may also like...