Eriophyoid Mites (Acari: Eriophyoidea) of Poland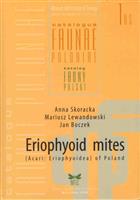 Description:
Text English. Catalogue of 342 species recorded from Poland, providing data on species occurrence, current taxonomic status, world distribution, host plants, pest status. Identification keys to families, subfamilies, tribes and genera
Other titles from the series : Catalogus Faunae Poloniae New Series
Click to view all titles in this series...
Gorczyca, J.
Price £45.00
Gorczyca, J.; Wolski, A.
Price £45.00
You may also like...