Evolution in Action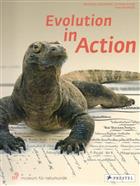 Description:
Accompanying the re-opening of the refurbishment of the exhibition halls at the Berlin Natural History Museum in July 2007 and the installation of the new permanent exhibition Evolution in Action, this book of essays suggests answers to questions about the origins and evolution of life on our planet. An investigation into the interactions between the natural world and its environment, 'Evolution in Action' reveals the incredible amount of change that constantly goes on around us.
Condition
Fine copy. Inscribed to Prof. Michael Claridge by Hannelore Landsberg (nee Hoch), one of the contributors to this volume.
You may also like...