Evolutionary Ecology: The Trinidadian Guppy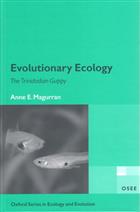 Description:
Explores the guppy's unique contribution to evolutionary ecology. Integrates historical breakthroughs with new research in this fast-moving field. The author reveals how guppies provided some of the first evidence of sperm competition and sexual selection, and how they continue to inform scientific thought on mating systems and cryptic choice. The consequences of variation in predation risk - as well as a host of other biotic and abiotic factors - are described and evaluated at all life stages from conception to death. The book discusses behavioural responses to ecological conditions alongside life history patterns. It examines the potential for ecological speciation and discusses new research into how reproductive isolating mechanisms become established in promiscuous mating systems. Conservation issues are also considered, both in terms of protecting the irreplaceable Trinidadian guppy system and in the context of invasion ecology. This synthesis of research into a species that has raised key questions in evolutionary ecology will be of interest to graduate level students as well as professional researchers in the fields of behavioural ecology and evolutionary biology.
Condition
As new.
Other titles from the series : Oxford Series in Ecology and Evolution
Other titles from the collection : Prof Jim Green
You may also like...