Expedition to South-West Arabia 1937-38. Vol. 1. Nos. 1-33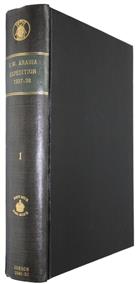 Description:
A complete set of scientific reports of the British Museum (Natural History) expedition to Aden and Yemen. Mostly entomology (Trichoptera; Coleoptera; Diptera; Lepidoptera; Isoptera; Hymenoptera) and papers on Mammals; Reptiles and Amphibians, Fishes; Molluscs; Arachnids and Crustacea.
Condition
Buckram, leather title-piece. Bound in a single volume, wrappers bound in. Ex-lib. some ink stamps. Good,
You may also like...