Fairy & Rainbow Wrasses and their Relatives: A Comprehensive Guide to Selected Labroids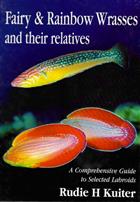 Description:
Detailed information on the families, genera and more than 100 known species of the world. Illustrated with hundreds of spectacular underwater colour photographs.
Condition
Top of spine slightly bumped. Vg.
Other titles from the series : Marine Fish Families
Click to view all titles in this series...
Kuiter, R.H.
Price £18.00
You may also like...