Fauna Iberica 22: Plecoptera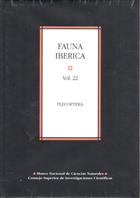 Series : Fauna Iberica
Volume: 22
Publisher : CSIC
Published In : Madrid
Illustrations : 173 text figs
Description:
Text Spanish. Review of the Plecoptera (Stoneflies) of the Iberian Peninsula and Balearic Islands. 140 species described and illustrated. Identification keys. Information on morphology (adult, nymph, egg) distribution, habitat, conservation status, biology (life cycle, feeding, reproduction) for each species
Other titles from the series : Fauna Iberica
You may also like...