Our Friends the Termites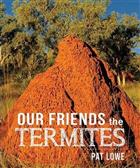 Description:
Termites are the earthworms of the tropics, providing nutrients to arid soils. They have been an important food for people and other animals throughout the centuries, and their nests have been used in many human endeavours.
Our Friends the Termites will enlighten anyone who has travelled through northern Australia and wondered at the strange mounds that dot the landscape. It is a fascinating and delightful read for backyard naturalists, entomologists and the simply curious.
You may also like...