Fauna SSSR: Piyavki Tom I: Piyavki presnykh i solonovatykh vodoemov [Fauna USSR: Leeches Vol. I. Leeches of fresh- and salt-waters]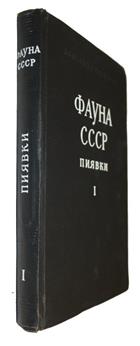 Description:
Text Russian.
Condition
8vo, orig. cloth. Paper browned. From the library of Prof. J. Green with his name to endpaper.
Other titles from the series : Fauna of the USSR
Other titles from the collection : Prof Jim Green
You may also like...