Field Guide to Butterflies of South Africa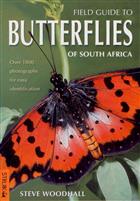 Publisher : Struik
Illustrations : 1600 col photos
Our customers have given this title an average rating of 5 out of 5 from 1 review(s)
Customer Rating:





Description:
Designed for easy, rapid identification of all butterflies likely to be seen in South Africa. Scientific and English common names, flight periods, numbers of broods, behavioural traits, differentiation from similar species, size, geographical distribution, larval food plants
Customer Reviews
Our customers have given this title an average rating of 5 out of 5 from 1 review(s), Click here to add your own review for this title.
John Walford on 4/19/2018 4:48:49 PM





(5 out of 5)
Just been on a trip to Southern Africa where this book was invaluable as a guide. Great photos, maps and concise, useful text. All you could want in a field guide. Just one small grouse: there is a convention as to the order that families and species are listed and Woodhall ignores this. Otherwise, excellent book.
You may also like...