Five Papers on Fossil and Extant Spiders New and Rare Fossil Spiders (Araneae) in Baltic and Burmese Ambers as well as Extant and Subrecent Spiders from the Western Palaearctic and Madagascar, with Notes on Spider Phylogeny, Evolution and Classification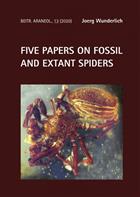 Description:
The Mid Cretaceous amber deposit of North Myanmar - the Burmese amber - represents the most important deposit of biological inclusions in amber like ancient flowering plants, feathers of birds and dinosaurs, peculiar extinct spiders and numerous other arthropods including numerous unique 'connecting taxa'. Studies based on most 'primitive' ancient insect taxa like of Blattodea, Siphonaptera and Lepidoptera as well as spiders (Araneae) - e. g. the suborder of the tailed Chimerarachnida and strange taxa of the clade Synspermiata which are treated in the five papers in this volume - allow important new conclusions on the phylogeny and on the root of several spider taxa of high level. How many unknown fossil 'connecting links' are still waiting for discovery?
You may also like...