Forgotten Order of the Vinegaroons: Whipscorpion Biology, Husbandry, and Natural History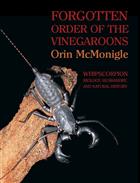 Description:
There is a large arachnid that eats scorpions and sprays acid. This amazing arthropod apex predator is the most significant arthropod predator in its range and yet few humans could answer a single question about it. Most people are not even aware that vinegaroons (or whipscorpions) exist. Although fearless monsters to other microfauna, and not so micro fauna, the whipscorpion is without venom and can hardly even pinch a human. These details-reproductive biology with representative photos of each stage discussed, morphological explanations including descriptive scanning electron micrographs, full husbandry explanations, select species accounts, and prey considerations-are presented here to bring light to every aspect of this heretofore forgotten arachnid order. This is the first book ever devoted to the order of the vinegaroons and the only full-length treatment of this order in the history of the written word. Never again should the vinegaroons be forgotten.
You may also like...