Foundations of Biogeography: Classic Papers with Commentaries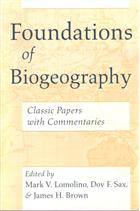 Description:
Reprints of 72 works that have proven fundamental to the development of the field of biogeography. From classics by the Compte de Buffon, Alexander von Humboldt, and Charles Darwin to equally seminal contributions by Ernst Mayr, Robert H. MacArthur, and E.O. Wilson, these papers and book exerpts not only reveal biogeography's historical roots, but also trace its theoretical and empirical development
Condition
Spine slightly faded. Vg.
You may also like...