Fund af storsommerfugle i Danmark 1974-2011, 2013-2020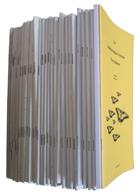 Description:
Text Danish. Annual macrolepidoptera records for Denmark, lacking part for 2012. Also included is Samlet liste over fund af danske storsommerfugle I tiden fra 1987-1996 Del I-II.
Condition
48 parts, in orig. wrappers as issued.
Other titles from the collection : Library of Barry Goater
You may also like...