Genera OrchidacearumVol. 4: Epidendroideae (Part 1)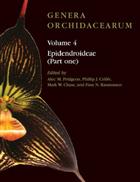 Description:
Fully comprehensive, modern treatment of orchid classification. Beautifully illustrated. Each genus illustrated in colour, as well as diagnostic line drawings and distribution maps.
This volume treats the first 210 genera of the largest subfamily, Epidendroideae, including some of the showiest orchids often used in hybridizing.
You may also like...