Geology and Economic Minerals of Canada: Annotated List of Economic Mineral Deposits in Canada, to Accompany Mineral Map of the Dominion of Canada, 1924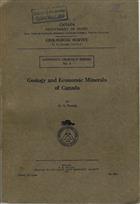 Description:
Canada Department of Mines, Geological Survey, Economic Geology Series No. 1.
Condition
8vo, wrappers. Ex-lib.: ink stamp to front cover. Good.
Other titles from the series : Economic Geology Series
Click to view all titles in this series...

You may also like...