Great Waters: A Voyage of Natural History to study whales, plankton and the waters of the Southern Ocean in the old Royal Research Ship 'Discovery' with the results brought up to date by the findings of the R.R.S. 'Discovery II'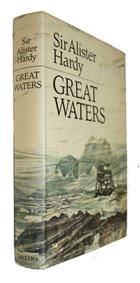 Collection : Prof Jim Green
Publisher : Collins
Published In : London
Illustrations : frontis, 38 plates (b/w photos, water-colours), drawings
Description:
1st edition. Sir Alister Hardy (1896–1985) was a British zoologist, writer, painter, and investigator of religious experience. During the First World War, Hardy served as lieutenant and captain in the northern cyclist battalion, and as a camouflage officer. In 1924 he became chief zoologist on board of Captain Scott's ship 'Discovery', on an expedition to study the biology of the Antarctic waters and the biology of the whales. On the 'Discovery' expedition he invented the continuous plankton recorder, which for many years formed the basis of the broadest and most regular ecological monitoring system in the world. He kept a journal during the voyage, ilustrated by his own photographs, drawings and paintings. This book comprises a natural history of the 'great waters', written round this vivid first-hand record of the voyage. The books is a narrative account of modern oceanography in action, a summary guide to the detailed reports (Discovery Reports, published in 33 volumes). In addition to his 'Discovery' related works and many scientific paper, he also wrote two titles in the 'New Naturalist' series, The Open Sea: part 1, 'The World of Plankton' (1956), and part 2, 'Fish and Fisheries' (1959) (New Naturalist Series nos 34 and 37 respectively).
Condition
Vg in d/w (d/w spine very slightly faded; not price-clipped, in protective sleeve).
Other titles from the collection : Prof Jim Green
You may also like...