Guía de campo de las abejas de España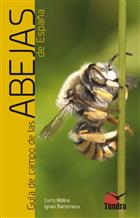 Description:
Text Spanish. Despite the recent interest in the decline of bees, and being one of the most familiar groups of insects in our environment, there is a great lack of knowledge about their diversity and way of life. This guide presents for the first time almost a hundred of the most common species of bees and bumblebees in Spain. For each species the distinctive features, biology, habitat, preferred flowers, distribution, activity and abundance are described. It includes a complete introduction on diversity, natural history and conservation of bees and how to observe and encourage these insects.
You may also like...