Guide des escargots et limaces d'Europe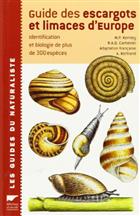 Description:
French edition of Kerney & Cameron's Field Guide to the Land Snails of Britain and North-West Europe. Enables identification of all European land molluscs (shells, snails and slugs). Lists more than 300 species of molluscs, from the most common to the rarest. Each description includes the morphology of the animal, its distribution, its habitat, and, where possible, its biological characteristics. More than 200 species are illustrated in color.
Other titles from the series : Guide Delachaux
You may also like...