Chenilles d'Europe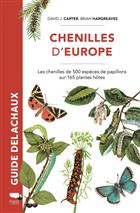 Description:
Text French. Translation of this useful field guide to over 500 British and European Caterpillars. Species descriptions include distribution, morphological description, life cycle, biotope, food plants. The color plates represent 165 plant species and, for each, the caterpillars likely to be found feeding on them, with the corresponding adult illustrated opposite.
Other titles from the series : Guide Delachaux
You may also like...