Papillons des Alpes: 238 espèces de l'arc alpin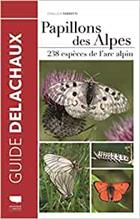 Description:
Text French. Aimed at the enthusiast, expert or beginner, this guide enables identification of 238 species of alpine butterfly. Each species account includes a description of the main characteristics, distriubution and phenology of the different life stages (eggs, caterpillars, chrysalis, imago). Photographs illustrate morphological details or different phases of the life cycle. For each species, the scientific and vernacular name in 4 languages (French, English, German, Italian). A field guide covering the Alps, including Germany, Austria, France, Italy, Liechtenstein, Monaco, Slovenia, Switzerland.
Other titles from the series : Guide Delachaux
You may also like...