Guide des Libellues de France et d'Europe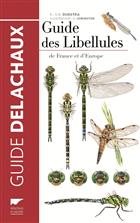 Description:
Text French. Identification guide to all the dragonflies and damselflies of France and Europe. Compiled by top field experts from across the Continent, together with Richard Lewington's fine illustrations. Region covered is all of Europe, from the Arctic Circle to the Mediterranean basin, including western Turkey, Cyprus, Morocco, Algeria, Tunisia, and the Azores, Canaries and Madeira. All 160 recorded species are illustrated, with a photo of the insect in its natural environment and identification drawings of males, females, immatures, varieties, side views and detail of important characters. Field descriptions, keys, identification tables (including field characters, hand characters, variation, behaviour, range and status, habitat and flight season). Country by country guides to finding dragonflies throughout Europe, North Africa and Turkey.
Other titles from the series : Guide Delachaux
You may also like...