Heathland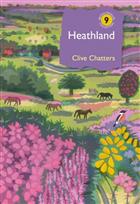 Description:
Heathlands are so much more than simply purple carpets of heather. They are ancient landscapes found throughout Britain that support a complex of inter-related species and an immense diversity of habitats. They also possess a unique human history defined by the struggle between pastoralism and the competing demands of those who seek exclusive use of the land.
In this latest addition to the British Wildlife Collection, Clive Chatters introduces us to Britain's heathlands and their anatomy. He then takes the reader on a geographical heathland tour - from the maritime sub-arctic of the Shetlands to the mild wetness of the Atlantic coast - with an in memoriam nod to those heaths that have been erased from common memory and understanding. He concludes with a review of how people have perceived and used heathland wildlife over the ages, and sets out a future vision for this iconic landscape, its unique habitats and the species that live there.
Most of our heaths are pale shadows of their former selves. However, Chatters argues, it is not inevitable that the catastrophic losses of the recent past are the destiny of our remaining heaths. Should we wish, their place in the countryside as an integral part of British culture can be secured.
Other titles from the series : British Wildlife Collection
You may also like...