Identification and Elimination of hard ticks infecting ruminant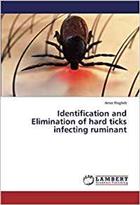 Description:
Beneficial for the undergraduates and research students for master or PH. D at faculty of veterinary medicine, parasitology department, infectious diseases department, pharmacology department, and for the student at biology department and acarology science, also for arachnides control department at faculty of agriculture, also it is very important for veterinarian and farmers that works in dairy farms and suffer from sever problems with hard ticks infestation to identify the species of tick and so decides the type of control that is suitable with that found species. I hope that this book will be beneficial to you.
You may also like...