Identifier les animaux Tous les vertébrés de France, Benelux, Grande-Bretagne et Irlande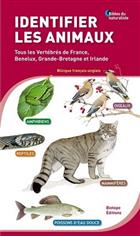 Description:
Bilingual French/English. A new concept: five natural history books in one! This guide to vertebrates allows you to identify 635 species with accuracy and ease, including all birds (nesters, wintering and birds of passage), mammals (including cetaceans and bats), reptiles, amphibians and freshwater fish. The territory covered includes the whole of the British Isles, France, Belgium, the Netherlands and Luxembourg. The work is fully bilingual: French and English; common names are also given in Flemish.
Its pocket size makes it your loyal naturalist companion.
Identification draws on:
– high quality watercolors grouped into plates of 4 to 6 species;
– concise texts, arranged opposite the plates, indicating the size of the animal, a brief description and the preferred habitat;
– up-to-date distribution maps with the most recent knowledge;
– pictograms indicating whether the species is easy or difficult to observe;
– with comparative plates, avoid the most common or the most subtle traps;
– Advice enabling you to improve your observations without disturbing the animals.
Other titles from the series : Collection Parthenope
You may also like...