Index Faunae Novae Zealandiae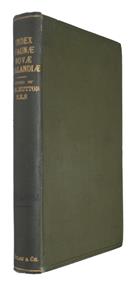 Description:
A systematic list of the animals inhabiting New Zealand and surrounding seas ' from the Kermadec Islands, in the north, to Macquarie Islands, in the south; and it takes in Stations 165 to 171 of the Challenger Expedition'. Also includes a brief historical review of the study of New Zealand's fauna, and a list of naturalised animals.
Condition
Vg ex-lib copy. Presented to the City of York Public Library by the High Commissioner. Blind stamps to pages at front and end; shelf number to spine.
You may also like...