Indian Botanical Art: an illustrated history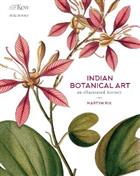 Description:
The book brings together and shows for the first time ever striking botanical art of Indian origin spanning a period of three hundred years, focussing in particular on the 18th and 19th centuries. Drawn mostly from original works held in the collections of the Royal Botanic Gardens, Kew, some of the paintings have never been published before. They showcase not only the wealth of the Indian sub-continent flora but the richness and variety of artworks, commissioned from mostly unknown Indian artists, who made a substantial contribution to the documentation of plants of economic, ornamental and cultural importance.
You may also like...