Insect Mouthparts: Form, Function, Development and Performance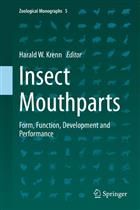 Description:
This is the first comprehensive book focusing on the form and function of insect mouthparts. Written by leading experts, it reviews the current knowledge on feeding types and the evolution of mouthparts and presents new research approaches. The richly illustrated articles cover topics ranging from functional morphology, biomechanics of biting and chewing, and the biophysics of fluid-feeding to the morphogenesis and genetics of mouthpart development, ecomorphology in flower-visiting insects as well as the evolution of mouthparts, including fossil records. Intended for entomologists and scientists interested in interdisciplinary approaches, the book provides a solid basis for future scientific work.
Chapter 6 of this book is available open access under a CC BY 4.0 license at link.springer.com.
Other titles from the series : Zoological Monographs
You may also like...