Insects of Samoa Pt VII. Other Orders of Insects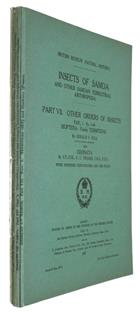 Description:
Part VII complete in 4 fascicles. Fasc.1: Isoptera; Family Termitidae and Odonata. Fasc. 2: Plactoptera; Siphonaptera; Thysanoptera. Fasc. 3: Mallophaga; Anoplura; Trichoptera; Neuroptera; Apterygota. Fasc. 4: Psocoptera
Condition
Wrappers. Vg
Other titles from the series : Insects of Samoa
You may also like...