Insects of Samoa. Pt IV. Coleoptera: Fasc. 2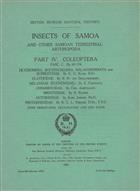 Description:
Heteromera, Bostrychoidea, Malacodermata & Buprestidae (K.G. Blair); Elateridae (R.H. van Zwaluwenberg); Melasidae (Eucnemidae) (E. Fleutiaux); Cerambycidae (C. Aurivillius); Brenthidae (R. Kleine); Anthribidae (K. Jordan); Proterhinidae (R.C.L. Perkins)
Condition
Wrappers. Vg
Other titles from the series : Insects of Samoa
You may also like...