International Horseshoe Crab Conservation and Research Efforts: 2007-2020: Conservation of Horseshoe Crabs Species Globally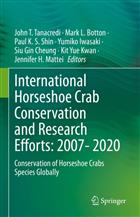 Publisher : Springer
Illustrations : 515 col illus, 40 b/w illus
Description:
The first International Conference on Horseshoe Crab's Conservation conducted at Dowling College, USA, (2007) and it's proceedings published by Springer in 2009, prompted the continued research and conservation efforts presented at subsequent conferences and colloquium in Hong Kong, Taiwan, (2011); San Diego, CA, (2014), (CERF); Japan, Sasebo (2015) and an accepted inclusion for a special session on Horseshoe Crabs at the 2017 CERF Conference held in Providence, RI, USA. All these aforementioned conferences contributed manuscripts, posters, workshop position papers, and oral presentations the majority of which have not been published in total. In 2015, Carmichael et al. had published by Springer the majority of manuscripts from the 2011 Hong Kong / Taiwan conference. However, workshop results and all subsequent presentations and workshops were not. The Japan conference presented over 40 papers alone. A collection of all workshop summaries, poster presentations and new manuscript submittals (San Diego, CA; Sasebo, Japan; and Providence, RI) as well as products prepared for the IUCN World Congress in Hawaii, (2016), are included potential contributions for review in this compilation now available for global distribution in this Springer Nature publication.
The Proceedings of International Conferences on the Biology and Conservation of Horseshoe Crabs, thus contains over 50 manuscripts and a diversified collection of documents, photos and memorabilia covering all four of the horseshoe crab species globally: their biology, ecology evolution, educational, and societal importance. This book exposes the impacts that humans have imposed on all four of these species, revealing through the coordinated effort of horseshoe crab scientists with the IUCN, of the worldwide need for a clear conservative effort to protect these paleo- survival organisms from a looming extinction event. Biologists, conservationists, educators, and health professionals will all welcome this book not only for exploration of its pharmacological interest, but also for the mystery of their longevity. This book also clarifies the future research needs and the conservation agenda for the species worldwide. Anyone working or studying estuaries on a global scale, will need to obtain this seminal work on horseshoe crabs.
You may also like...