La flora de Zuera y sus pinares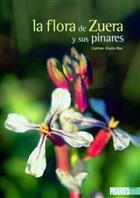 Description:
Illustrated guide to a selection of the rich flora from this municipality in the province of Zaragoza, Aragon, Spain. Includes some information on the cultural use of the plants (medical, food, industrial, domestic, healing and magical).
Other titles from the series : Guias de la naturaleza
Click to view all titles in this series...

Redondo, V.; Gaston, J.; Vicente, J.C.
Price £33.50
Blasco Zumeta, J.
Price £32.50
You may also like...