La Sagesse Vient de l'Ombre: Dans Les Jardins de Sicile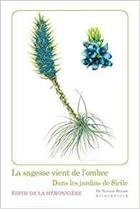 Description:
Text French. The compost for Édith de la Héronnière's literary work is the practice of a major art form: that of 'wandering'. When wandering, we are less likely to get lost than to encounter something. And when one is in Sicily, it is the gardens that emerge, mind-boggling in their aspects and colours, in the very middle of paths bathed in staggering heat.
In this book, Édith de la Héronnière leads us into the midst of mythical Sicilian gardens, rooted in a far-away history with oriental scents. These oases, so rich in floral species, colours and aromas, often hint of something slightly mad, just like the Donnafugata labyrinth, in which one can get forever lost.
What all of these gardens undoubtedly share is a creative exuberance. Behind the fences, nature has not only allowed botanical ingenuity to bloom - it has also produced poetic and literary genius. For we are on the lands of Lampedusa or of Lucio Piccolo, following in the footsteps of Goethe or Dumas. Under the giant ficus trees, petrified with sunlight, stretches the shadow of death with which the Sicilians have very slowly, note by note, composed a sort of 'hymn to silence' thus putting their singular wisdom to song.
Edith de la Héronnière is a French writer born in 1946. In tandem with her editorial activities, she frequently travels to Italy (to Rome, and to Sicily in particular). Each of her travels provides her with material for her writing. Local inhabitants of the sites which she visits or lives in give her access to their gardens, which she describes in some of her books: Le jardin des plantes de Paris, in Le promeneur de Paris (jardins), (2003); Le labyrinthe de jardin ou l'art de l'égarement (Klincksieck, 2009). Most of her books have been translated into Italian.
Other titles from the series : De Natura Rerum
You may also like...