Lepidoptera: Micropterigidae - Psychidae: Fjärilar: Käkmalar - säckspinnare (Nationalnyckeln till Sveriges Flora och Fauna)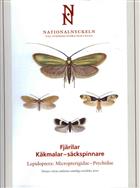 Publisher : ArtDatabanken
Published In : Uppsala
Illustrations : col illus, distribution maps
Description:
Text Swedish with species summaries in English. Covers 250 species of the families Micropterigidae, Eriocraniidae, Hepialidae, Opostegidae, Nepticulidae, Heliozelidaae, Adelidae, Incurvariidae, Prodoxidae, Tischeriidae, Tineidae, Lypusidae and Psychidae. Fine colour illustrations, plus many photos of leaf mines, larvae and larval cases
Other titles from the series : National Encyclopedia to Swedens Flora & Fauna
You may also like...