Les Animaux et Ecosystemes de l'Holocene disparus de Madagascar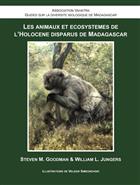 Description:
[The Lost Holocene Animals and Ecosystems of Madagascar]
Text French. The biodiversity of Madagascar fascinates us with its many features. Using evidence from 13 different paleontological and archaeological sites, the authors focused on ecological changes that have occurred in recent geological time, during the Holocene. This approach has opened a series of windows that have revealed the extent of the significant reduction in range of even the complete disappearance of a wide range of habitats and their components, particularly plants and animals. These, in turn, allowed the authors to evaluate and explain natural changes and tell them apart from those induced by man. These original ecosystems are brought back to live through the extraordinary illustrations of Velizar Simeonovski.
French summary
La biodiversité actuelle de Madagascar nous fascine beaucoup par ses particularités, celle du passé qui est perdue est encore loin de notre imagination. En utilisant des preuves scientifiques provenant de 13 différents sites paléontologiques et archéologiques, les auteurs se sont penchés sur les changements écologiques qui ont eu lieu au cours du temps géologique récent. Cette approche a ouvert une série de fenêtres qui nous ont dévoilé l'étendue de la réduction considérable des aires de répartition ou de Ia disparition complète d'un large éventail d'habitats et de leurs composants, particulièrement les plantes et les animaux. Ceux-ci à leur tour, nous ont permis d'évaIuer et d'expIiquer les changements naturels par rapport à ceux induits par I'homme. Ces écosystèmes originels sont rendus vivants grâce aux illustrations extraordinaires de Velizar Simeonovski.
Other titles from the series : Guides sur la Diversité Biologique de Madagascar
You may also like...