Les Carnivora de Madagascar [The Carnivores of Madagascar]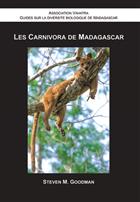 Description:
Text French. Madagascar, with its unique and highly endemic flora and fauna, is a world conservation priority. Thirteen species of Carnivora are currently known to exist on the island, ten belonging to the endemic family Eupleridae and with the balance introduced by humans. Since the pioneering work carried out on Madagascar's Carnivora in the 1970s, numerous other research projects have been conducted on these animals, and this pocket-sized book provides an up-to-date synthesis of these studies.
Written in non-technical French and featuring beautiful illustrations of all Malagasy carnivorans, this is the only recent book in any language that covers the entirety of Madagascar's introduced and endemic Carnivora species. It offers particular insight into Eupleridae. The different species that make up this endemic family all originate from a common ancestor that millions of years ago somehow traversed the Mozambique Channel, colonized the island, and subsequently evolved into the Eupleridae species of today. This book shows that, although Eupleridae display morphological similarities to other Carnivora in the world – such as civets, mongooses, and cats – these similarities are in fact the product of convergent evolution.
French summary
Treize espèces de Carnivora sont actuellement présentes à Madagascar, don't trois sont introduites par les humains et les autres sont des membres de la famille endémique des Eupleridae. Les différentes espèces qui composent cette familie provenaient d'un ancêtre commun qui a été capable de coloniser l'ile à travers Ie canal du Mozambique il y a plusieurs millions d'années et qui a subi un processus d'évolution, développé dans un groupe extraordinaire. Ce processus de diversitication est connu comme étant une radiation adaptative, et caractérise la plupart des Iignées uniques de plantes et d'animaux de Madagascar. Les Eupleridae montrent une ressemblance morphologique à celie des autres Carnivora dans le monde, tels que les genettes, mangoustes et les chats, mais cette similitude est Ie produit d'une évolution convergente.
Depuis les travaux pionniers du Dr Roland Albignac dans les années 1970, des recherches ont été menées sur les Carnivora malgaches et ce livre tente de synthétiser les informations à jour sur les Eupleridae avec un texte Iargement non technique. Les principaux sujets couverts comprennent des aspects de I'évoIution, Ia systématique, la paléontologie, la biologie, l'écologie et Ia conservation de ces animaux. Des informations sur les espèces introduites sont également présentées. Nous espérons qu'a travers ce livre, les lecteurs pourront découvrir le monde extraordinaire mais réel d'une partie de la biodiversité unique de Madagascar.
Other titles from the series : Guides sur la Diversité Biologique de Madagascar
You may also like...