Les Coléoptères de la province de Kerguelen (îles subantarctiques de l'océan Indien) Faune de France 99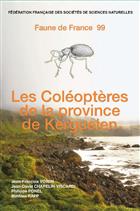 Series : Faune de France
Volume: 99
Publisher : FFSSN
Published In : Paris
Illustrations : 29 col plates, 51 figs
Description:
Text French. With this volume the 'Faune de France' widens its horizons by covering the fauna of one of the French overseas territories, the Province of Kerguelen, or the Desolation Islands, in the southern Indian Ocean. This book deals in detail and allows identification of the 61 species and subspecies of Coleoptera recorded from this remote archipelago.
Other titles from the series : Faune de France
You may also like...