Les fourmis de Madagascar / Ants of Madagascar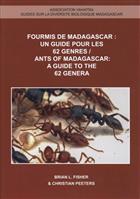 Publisher : Association Vahatra
Published In : Antananarivo
Illustrations : col photos, b/w illus
Description:
Une guide pour les 62 genres / A Guide to the 62 Genera. Text French/English.
Ants are among the most conspicuous and ecologically important of insects. This guide introduces the fascinating and diverse ant fauna of Madagascar, covering 62 genera. The authors discuss their natural history, ecology, and distribution pattems in an extensive introduction, as well as a history of their study and field collecting techniques. Two glossaries are included to help readers identify ants, after which a full-two-thirds of the guide is a photographic guide to the subfamilies and genera.
French Summary:
Les fourmis comptent parmi les insectes les plus visibles et economiquement importants. Ce guide est une introduction a  la diversite fascinante des fourmis des fourmis de Madagascar.
Other titles from the series : Guides sur la Diversité Biologique de Madagascar
You may also like...